After seeing negative prices in Crude Oil futures, will oil prices stay depressed, or will they recover any time soon?
With stock markets unclear, and the US dollar fluctuating wildly, is Gold and bitcoin are good long-term investment now?
The most bearish pairs are Brent (BCOUSD) and Crude Oil (WTIUSD)
Look at Brent Oil below
support broken clearly, with a retest to the same area
Looks like support is being converted into resistance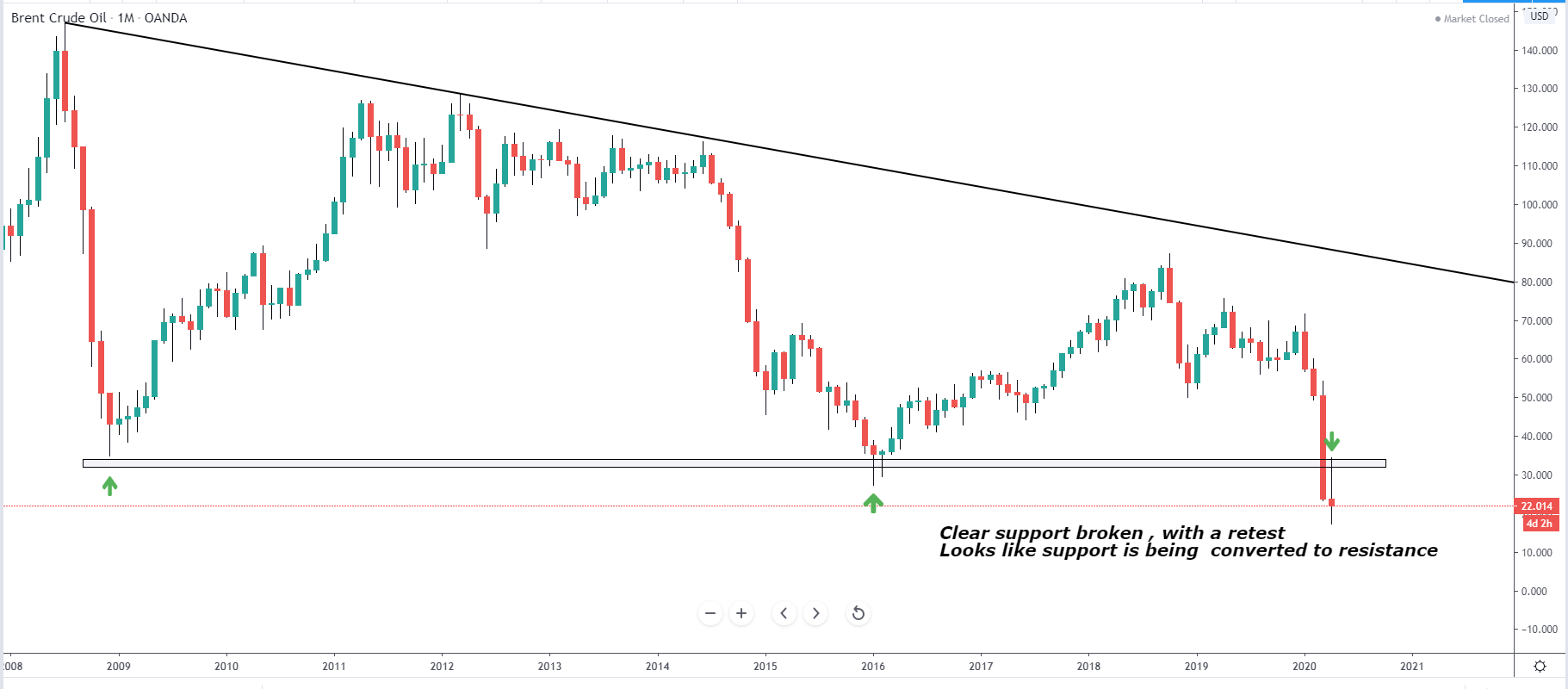 Look at US Oil – WTI below
Price rejected the same support level and its looks like support has turned into resistance now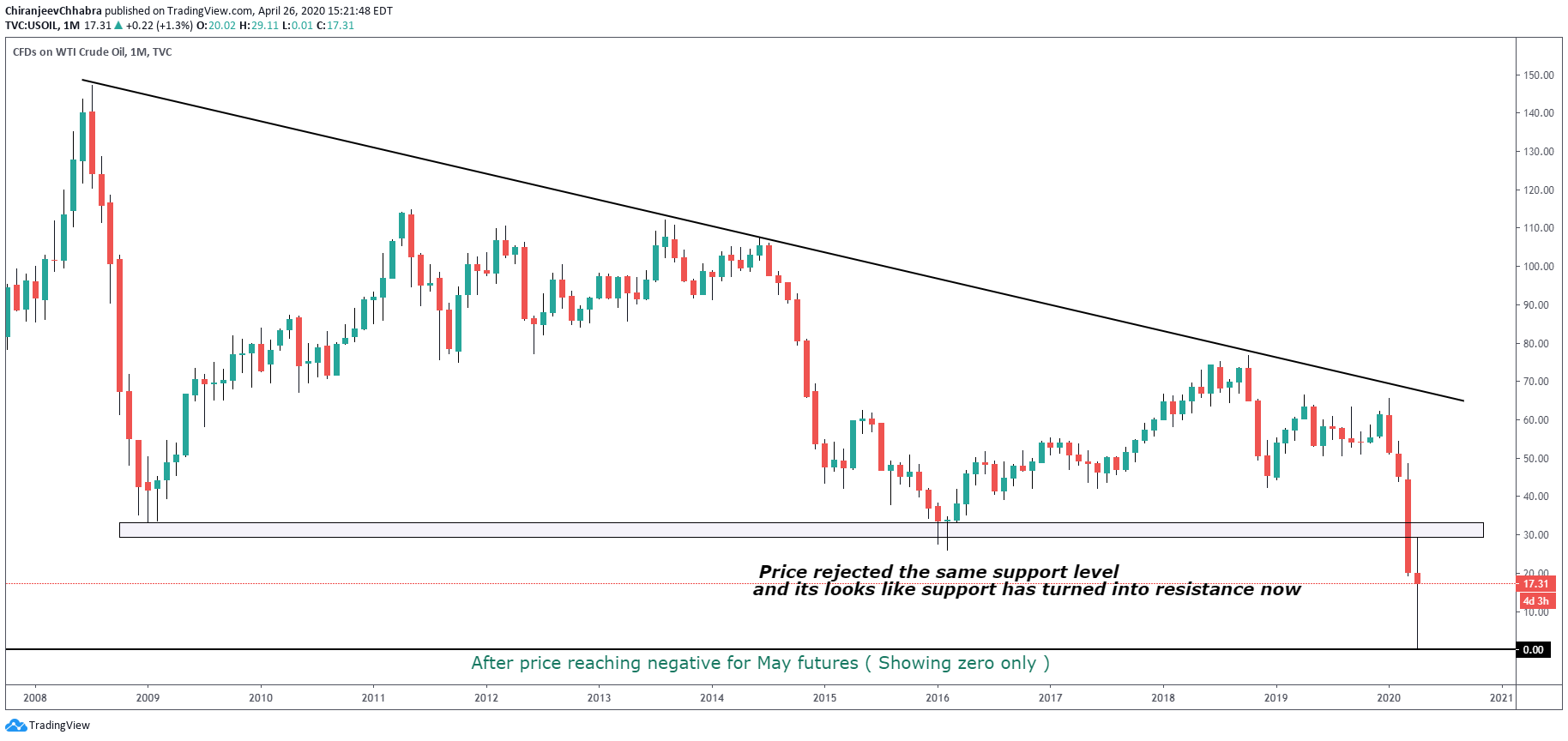 After seeing the May Crude Oil futures hit negative, traders are getting spooked for the June contracts, because they are afraid the same thing will happen if the lock-down is still in force, and demand remains low.
Looking at the virus numbers, the possibility is high.
We have seen that the most bullish pairs are Gold (XAUUSD) and the US Dollar Index (DXY),
Look at the Dollar index chart below
We might see similar structure which we have seen in the past 20 year back in 2000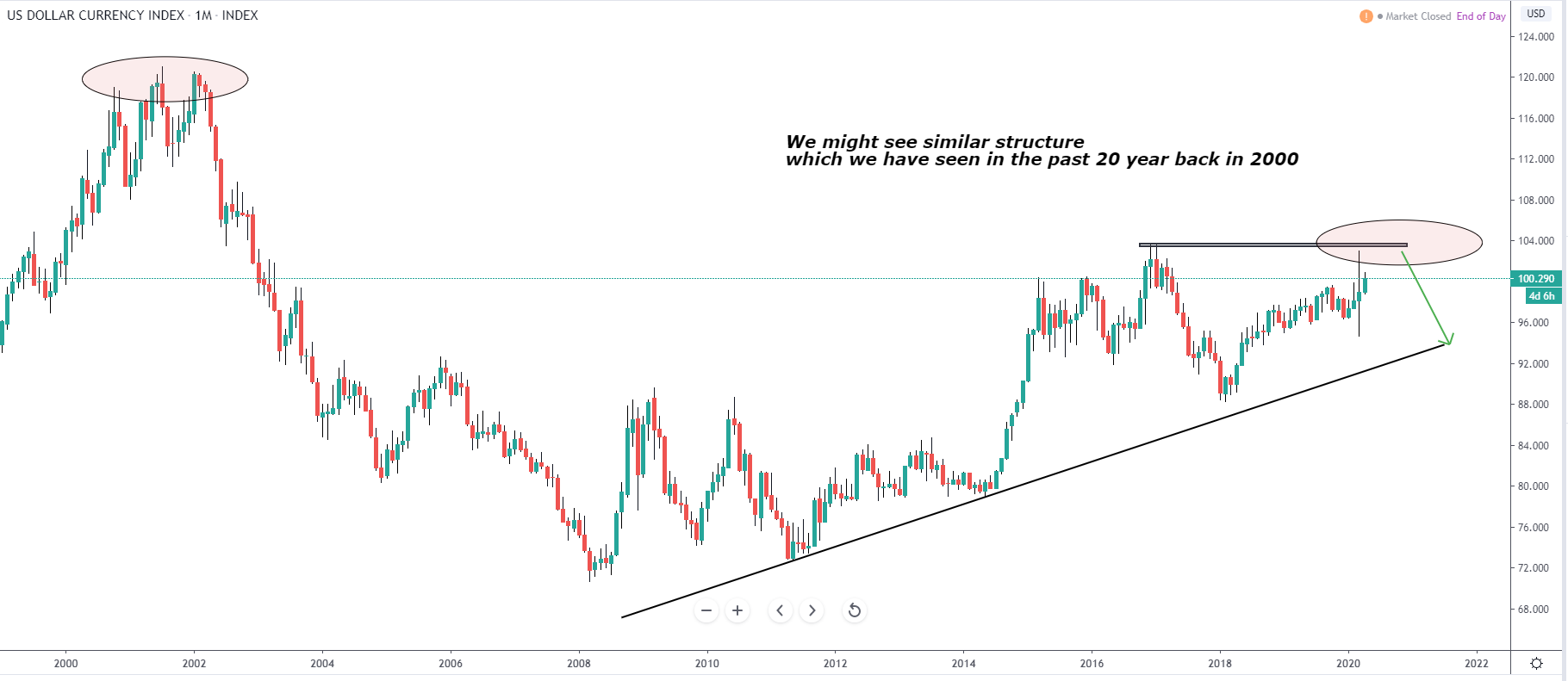 Looks very confusing when Gold and Dollar both getting stronger during panic situation and economic crises – so should we see Dollar getting weaker while gold tries to clear the price barrier?
Gold chart below
1. 1800 looks like a barrier
2. Once the first barrier is broken price will try to break 1900 & will try to lead towards 2000 area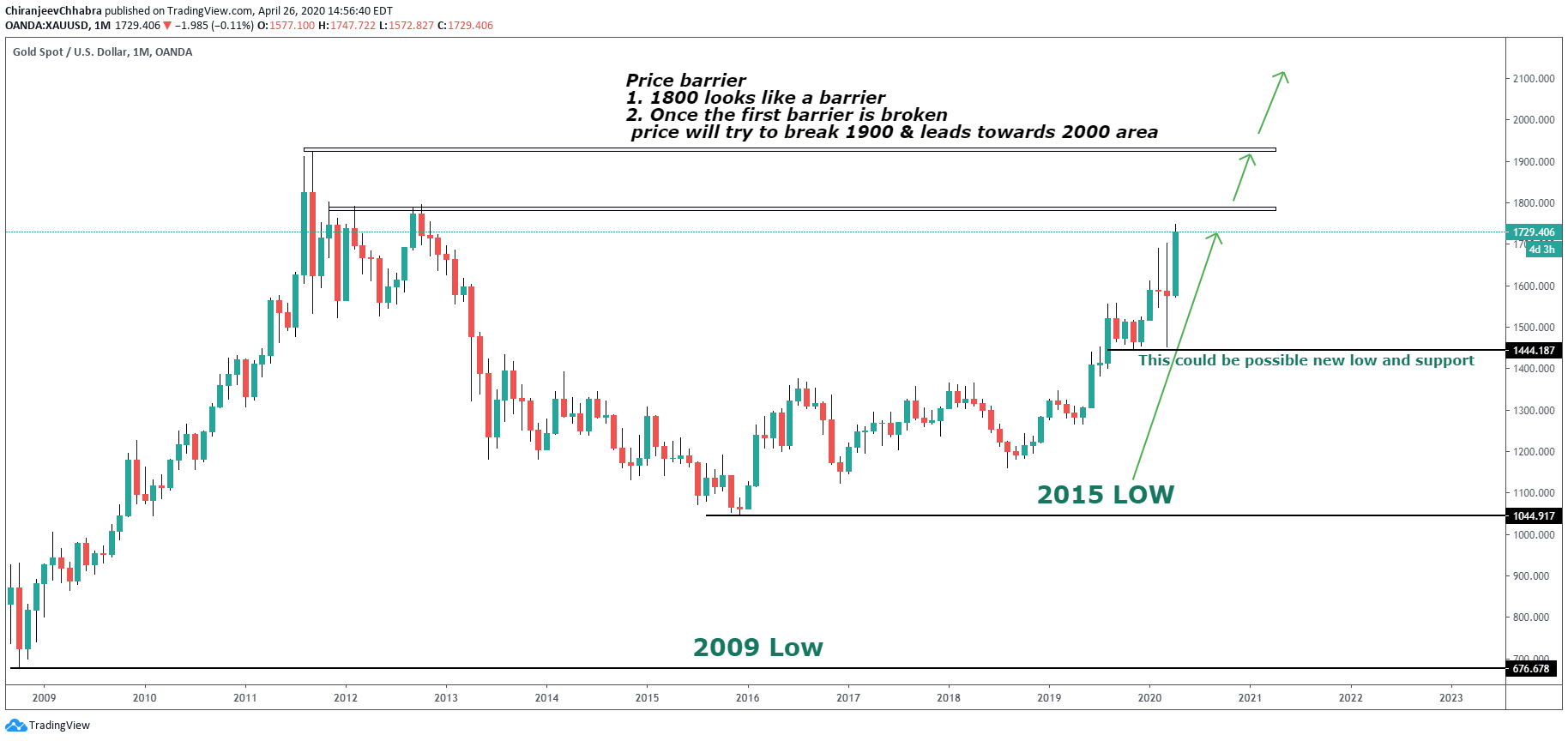 According to analysts from the Bank of America, they now have an 18-month target of $3000 for Gold, which seems pretty bullish, considering we have not even cleared $2000 yet.
Normally, it is quite rare for the USD and Gold to trend strongly in the same direction, but we are seeing it now.
In the short/medium-term, since USD is a reserve currency, it is in demand when liquidity dries up, whoever with the aggressive money printing, it might decline in the long run.
As proposed by Ray Dalio, we are nearing the end of a 75-year debt cycle, which could see massive deleveraging and devaluation of the US Dollar. If that happens, then it will definitely be bullish for Gold.
This is the reason I have been actively adding Gold to my long-term portfolio.
Apart from that i have been telling that Block – Chain tech will be the future on how business will work
The first product of Block- chain technology is Bitcoin 
After rejecting key support area , The digital gold is planning to break the 2020 high of 10K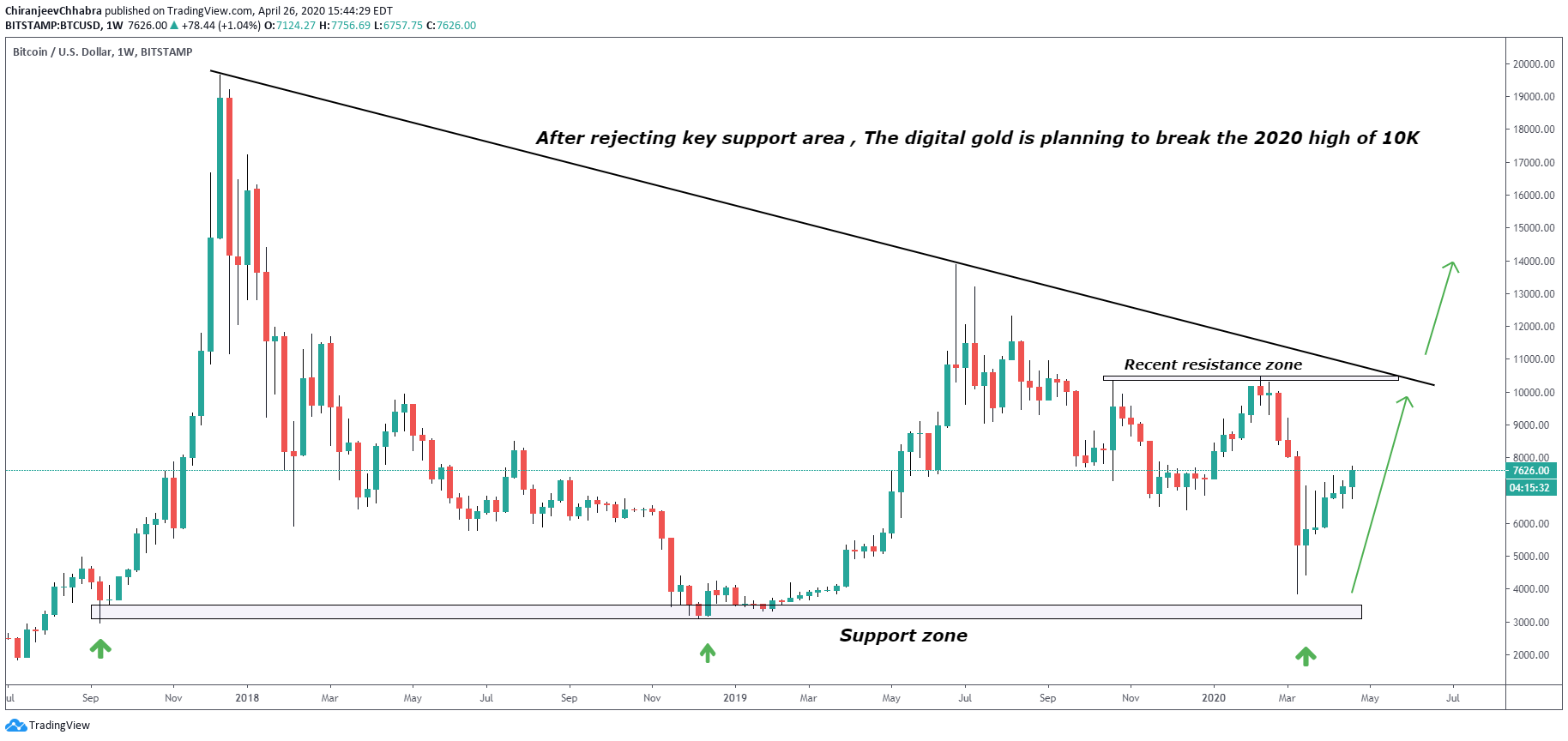 Join our free telegram channel to stay updated with daily analysis and market updates Telegram Channel