Abu Dhabi Life – My Daily Routine
Hello Everyone
This is my first blog, so I am a bit nervous that how it will be …
I will tell you something which wanted to do and also about lifestyle here in Abu Dhabi
It was my dream to work in a foreign country and UAE has fulfilled it. This country is beautiful and they have maintained it pretty well.
I live in Abu Dhabi the capital of UAE, which most of the people do not know and one more interesting fact- is people think Dubai is a country which is not true. So UAE consists of 7 Emirates and Dubai is one of them. Getting back to the lifestyle of Abu Dhabi
The Life here in Abu Dhabi is amazing, I wake up daily around 6 am. Wear my cycling kit and ride my bike to work ( I love to ride ). I stay at Electra Street and my office is Al Khubeirah which is around 9 kms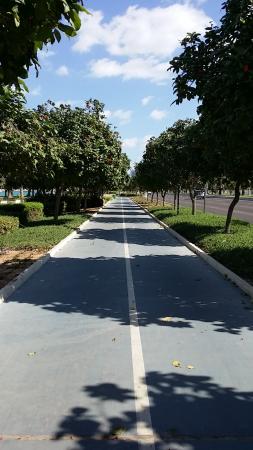 So it is 18 km daily cycling. Isn't amazing?.   I come home at 6 some play with my Angel (my bitch's name) and after that I spend some time with my love –Taco (my cat).
I told you that I will tell you something so here it is
After college when I bought my first bike I always wanted to bike to work but my pervious office was 33kms away from my place still i managed and did couple of times J
So I always wanted to have a job which allows me to bike to work daily and I always wanted to work in a foreign country so my new job gave me all.
Stay tuned for more about the life here ….