Have heard it everywhere – Trend is your friend . Then lets make our friendship strong and understand technique of retest added with a candlestick confirmation
Before that if you have not studied candlestick patters i strongly recommend to take a look at this Candlestick patterns 
Now when we say trend is your friend we meant to say that if market is trending up making higher lows it is always recommended to go long and if it is trending down making lower highs it is always recommended to go short. Looks easy but very hard to follow and most of the time market gets manipulated. So here is a trick of retest with candle confirmation to give you lil more confidence to take positions
The primary condition is : If market is trending upwards – we will look for Long opportunities and vice versa when its trending downwards 
GBPCAD was trending down and then market starts to move up showing some corrective pattern , we see price breaks the corrective pattern mentioned as a breakout area
Some traders will take this opportunity and go short at the breakout level and if price continues to go down then you are lucky. But if not then you will regret . Alternatively you can follow a retest strategy which will make you lil more comfortable taking a short position. Again the chances of price going up or down will remain the same however risk to reward ratio is usually higher when price does the retest
Retest Strategy
You will first see and confirm trend is down – Price making lower highs . If your not finding clear trend structure in your selected time frame do not trade
Look for corrective pattern where price is trading against your trend – So if trend is down the corrective pattern will be price trending upwards
You will look for the price to break the corrective pattern – Ideally you can do by drawing a trend line shown in the pic below
Once u see clear breakout look for price to go back again to the same area from where the break has happened or at the recent peak
Find a bearish engulfing or Shooting star candle as an added confirmation to you short position ( off course you can find any bearish candle which makes u comfortable )
Here the target area should be the recent low marked with the green line
You can always scale up your position when price starts to move in your direction but that's not the point here. The point is sometimes breakouts can be very confusing and since more and more people are using technical analysis the clear breakout are rare instead of that retest strategy works well if you add candle stick confirmation at the retest area
Here after price broke the corrective pattern it went up again to the same recent peak area marked with the first red arrow and  the second read arrow shows retest area . Now if you see we have a bearish engulfing candle at the retest area and price quickly starts to do down with almost zero draw down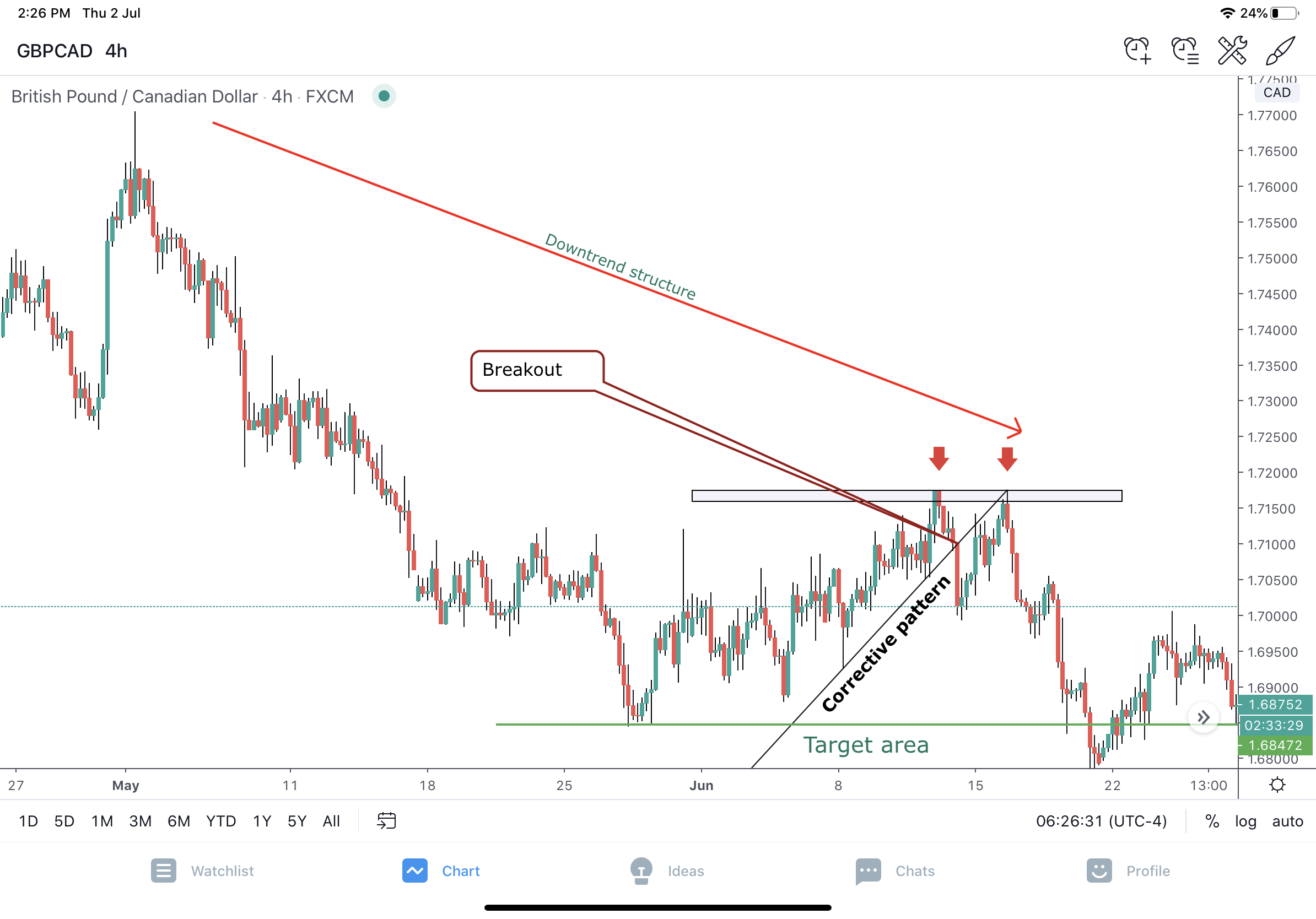 Now look at another example of GBPNZD where price broke the corrective pattern and price initially went down and the came back up and gave us Shooting start at the previous swing point showed right below the first red arrow and second arrow shows retest area with shooting start . Now if you compare the above example the retest areas are different.
So here are some examples of retest areas and where to find them
At the recent peak ( shown in the first example)
At the recent swing high point shown below
At 50 or 61.8% retracement level from the recent peak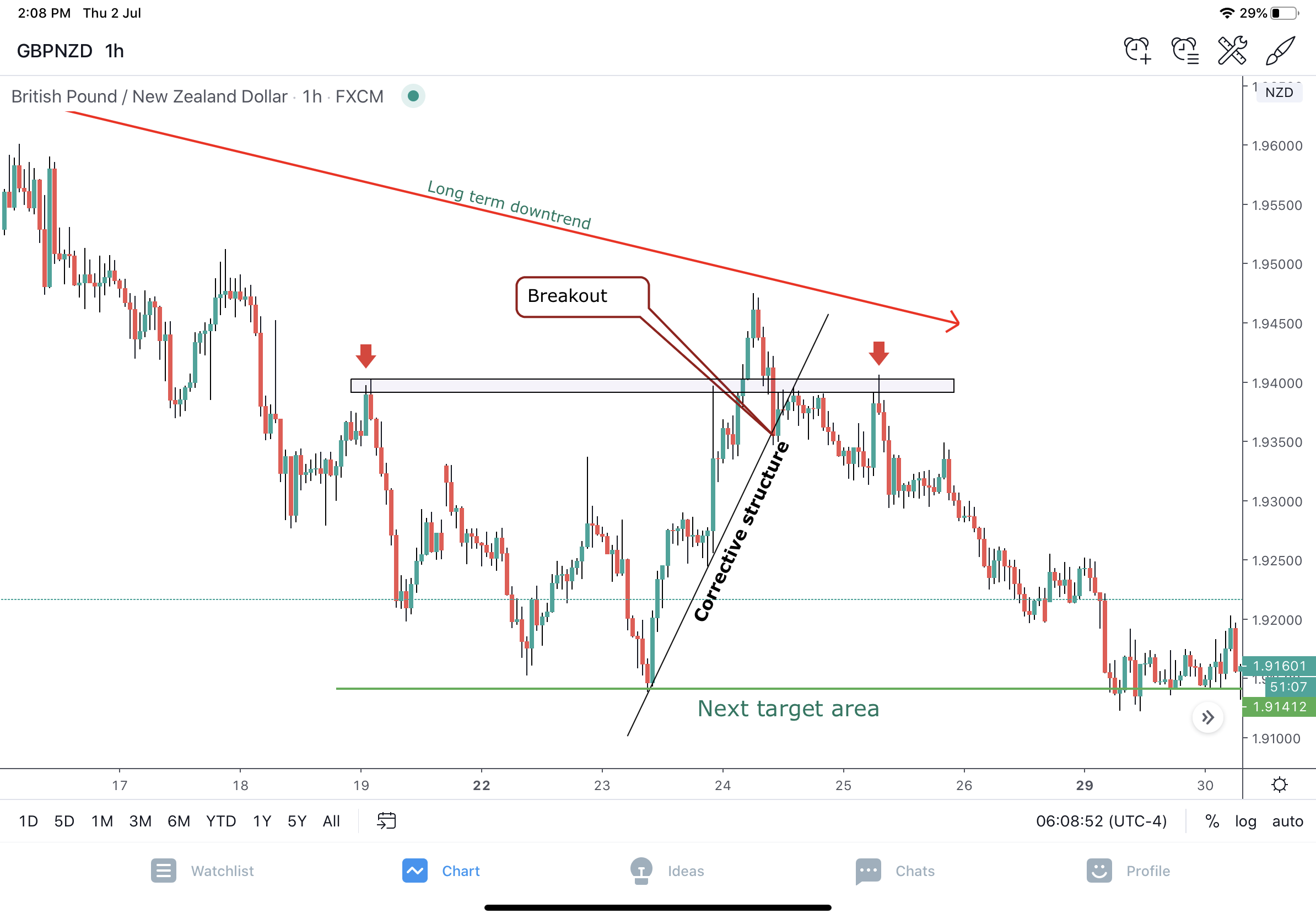 Lets see one more example in a uptrend situation so do you remember the primary condition , if not then scroll up and read again and keep a note of it
Once price broke corrective pattern it went down and retested the previous support zone Swing low area with a Bullish engulfing candle (see second green arrow)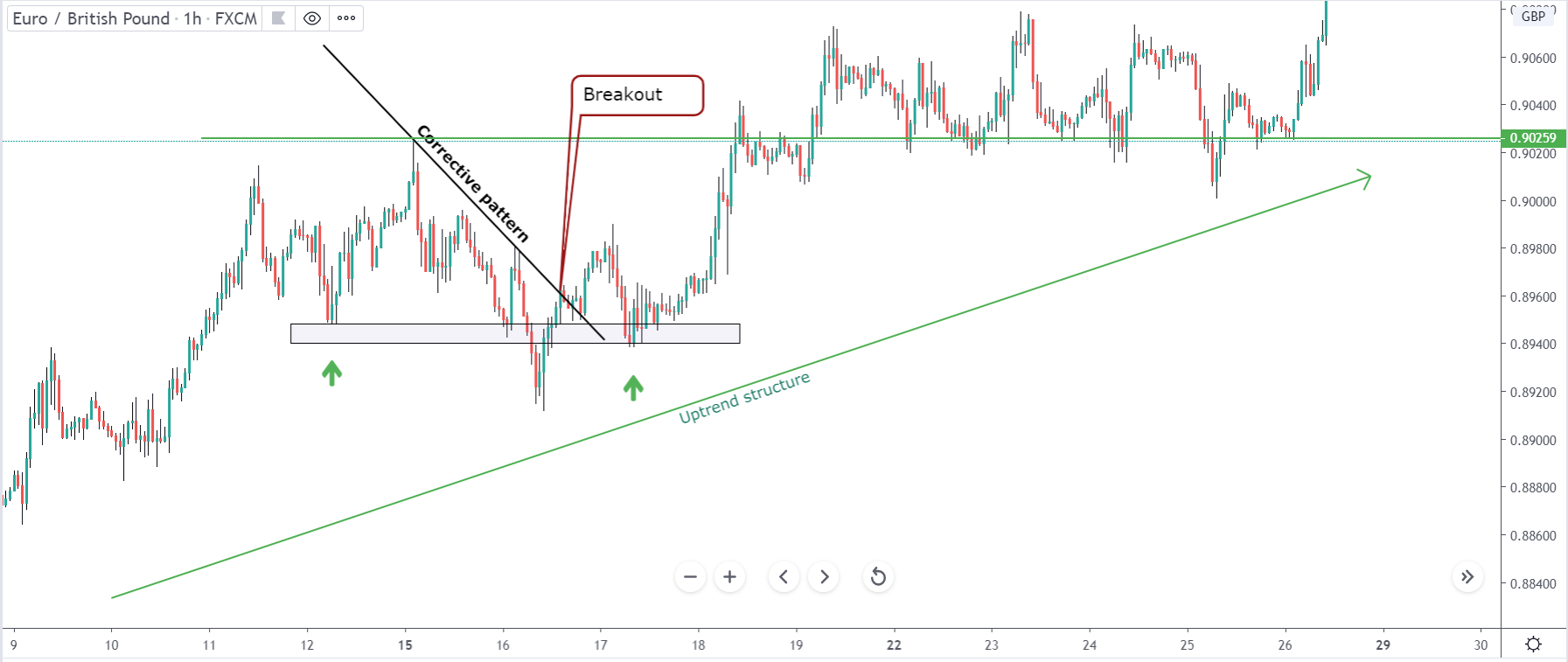 These retest setups you might see a lot of times when u move to lower time frame . However i have noted some points which makes me comfortable while taking a trade on these setups. These are not hard rules , you can make yours by doing back testing
1.Trend confirmation : I will check 4 hr time frame or daily time frame to confirm the trend and then move to 1 hr time frame and if all these time frames gives me the same picture i will then find out corrective pattern
2. Confirmation : Once price broke corrective pattern i will wait for the retest with Candle confirmation
3. Risk & reward : My risk and reward ratio have to be at least 1:1 , The more is better
Practice this be patient do not force this setup until you get all point confirmation .
Be safe